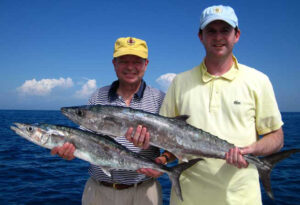 Even though spring doesn't officially start until March 20 this year, I'm really looking forward to it. This winter, the fishing was the most inconsistent that I've ever experienced. Cold fronts were few and far between and when we did get one, temperatures headed back north of 70 degrees the following day. This inconsistency prevented fish from settling into their normal winter patterns. That being said, there were a good number of days when sea-trout catches were outstanding. The next day, not so much.
The redfish bite was about the same, but with a slightly different twist. Some days, most of the redfish landed were in the mid to upper slot-size of 27-inches. Other days, most were under 18-inches. Still fun to catch, but a little disappointing if you were planning on a blackened redfish dinner. Fortunately, of late, schools of large redfish are once again prowling the grass flats.
Traditionally, St. Patrick's Day marks the start of the annual kingfish migration run along the Pinellas County coast. Kingfish can be caught very close to shore with very little effort. Just run offshore about a mile or so and locate hard bottom using your sonar or by searching out crab traps. Crab fisherman, always drop their traps on hard bottom, because that's where the crabs are. Go figure! Once you locate a decent spot, drop anchor, start a chum slick and put out some live-bait on flat lines.
Chumming for kingfish and waiting for them to come to you is productive, but luring the fish with a trolled bait is more proactive. Slow-trolling live bait also eliminates the possibility of catching non-targeted species like sharks. I always prefer to head offshore with some bait in the live-well, but you can catch it once you reach your destination with a Sabiki rig.
Kingfish are great table fare, if you stick to the smaller ones, because they're common carriers of high levels of mercury. The FDA recommends eating fish under 30-inches to limit your mercury intake.
Personally, I like to smoke kingfish on my Big Green Egg and then make fish dip. If you've never done it, just Google smoked kingfish dip and you'll find plenty of recipes.
https://afishionado.com/wp-content/uploads/2017/04/Smoking-Springtime-Fishing.jpg
447
654
wpfishwade
https://afishionado.com//wp-content/uploads/2018/03/afishionadoheader2.jpg
wpfishwade
2017-03-10 00:52:17
2020-10-06 10:41:09
Smoking Springtime Fishing is Here!