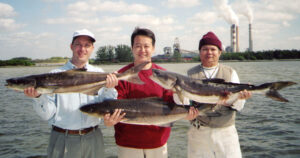 My redfish charters kicked into high gear last month with multiple trips catching well over 20 an outing and I look for that to continue throughout the month of November.
The key to this kind of success is to find areas in no-motor zones that are void of other boats. On one trip, I had in Mid-October, I sat in one spot for four hours and caught redfish and snook non-stop.
Some of the key factors that day: I was in a no-motor zone with no other boats around; I arrived at my spot at the top of an extremely high full moon tide to fish the outgoing tidal flow and I live bait chummed until the cows came home. When I chum, I really chum. By the time we left the flat to head back to the dock, I had completely emptied a 55 gallon live-well crammed full of bait.
When I'm not catching snook while fishing for redfish, I'm finding snook schooled up in different areas. Unlike catching lots of snook while targeting redfish, I rarely catch many redfish when strictly going after snook. That's mainly due to the fact that large concentrations of snook prefer a little different habitat such as, deeper water with a stronger tidal flow and/or around structure.
Cooler temperatures translate into cooler water, which in turn, triggers the fall kingfish migration. This month the Pinellas County coastline will be dotted with boats pursuing kingfish. Kingfish are an easy species to target and can be caught within a mile from shore. Most anglers anchor their boats over hard bottom or an artificial reef, start a chum slick, stream live baits behind the boat and wait for a strike.
I prefer to take the bait to the fish by slow-trolling live bait. This method allows you to cover more water and at the same time troll your baits around the numerous large schools of bait you will encounter this time of year.
Kingfish follow these massive schools of bait as they leave the cooler waters of the Panhandle and head south. By early November there is bait everywhere just offshore and the kingfish are in a feeding frenzy.
Towards the end of the month, as cold fronts move through our area, it's time to think about hitting one of our power plants for some warm water outflow action. It just might be the right spot to work off that Thanksgiving turkey dinner while fighting a big cobia.
https://afishionado.com/wp-content/uploads/2017/04/c84af59016b7a20db1b5086afc6493b9-3.jpg
408
776
wpfishwade
https://afishionado.com//wp-content/uploads/2018/03/afishionadoheader2.jpg
wpfishwade
2016-11-03 08:07:07
2020-10-06 10:41:34
Some Cooler Weather Has Arrived