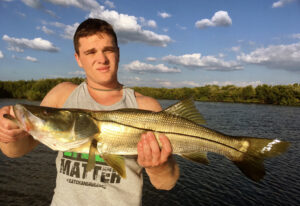 The key to success with hooking up with a monster Tampa Bay snook is to fish during a strong tidal flow and have the right bait. Grunts, pinfish and large scaled sardines are prime snook baits. It's also important to present the bait properly. Always cast up tide and let the bait flow back to the fish while keeping the bail on the real open. Once your bait is picked up and line starts rushing off the spool, close the bail with your hand and lift your rod tip for a solid hook set.
Mangrove snapper spawn this month also, so it's a good time to go snapper fishing. Snapper fishing is easy. Just go load up your live-well full of bait and head to a rock pile, artificial reef or bridge and start chumming.
I like to cut up my own fresh chum from the live-well, but a frozen chum-block hanging off the stern will work. I good tidal flow works best for snapper fish as well, because it creates a flow of fish particles to pull the fish off the structure you're fishing on.
As far as snapper bait. I like to use the smallest scaled sardine in the live-well. Better yet, if you have any 2-inch pinfish, use them. Snapper love them and they're hearty on the hook.
There are two ways you can fish your snapper bait. Let it drop back with the chum slick while let out line or cast it out and let it swim in the current with the bail closed. The biggest thing about getting a hook up, is to be patient. Snapper will peck at the bait two, maybe three times before it inhales it, so don't try to set the hook too soon!
Locating schooling redfish lately has been hit or miss, but I think that's mainly due to the huge influx of freshwater that our area received during the last two weeks. Thankfully, we're finally getting back to a normal pattern of afternoon storms. This should allow the waters to clear up and increase the odds for locating schools of redfish.
When I'm out fishing and the winds lay down in the middle of the day and the temperatures start to rise, I often crank up the motor and go search for triple tail or cobia.
Triple tail love to hang out around crab trap buoys and will eat just about anything you toss at them. They will also trail along with floating debris. I saw a bright orange object last summer that looked like a fish marker, so I went and checked it out. It turns out, it was a floating bait net with a large triple tail in it. My client cast a scaled sardine at it and the fish rushed out of the net and devoured the bait. So always be on the outlook.
Cobia on the other hand, like to hang around larger structure. Large buoys, range markers or navigation signs, any of these obstacles can attract cobia. Cobia like to shadow large stingrays that are cursing the grass flats too, so keep an eye out.
https://afishionado.com/wp-content/uploads/2017/06/tampa-bay-snook-fishing.jpg
655
952
wpfishwade
https://afishionado.com//wp-content/uploads/2018/03/afishionadoheader2.jpg
wpfishwade
2017-06-16 15:51:43
2020-10-06 10:41:08
Snook Are in Full Spawn