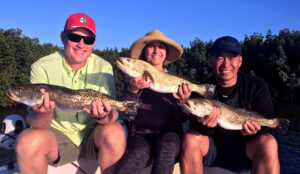 Lately, my clients have been catching plenty of large sea-trout.  Some days, most are at or over the 20-inch maximum slot-size, which is only one out of a four fish per person limit.  Sea-trout are mostly hanging out in deeper water.
The redfish have remained pretty active, although this time of year it's not uncommon to catch a lot of fish just under the 18-inch slot-size, what we call "Rat Reds."  Even in the winter, the key to success is to chum with live-bait.
One thing I notice about fisherman, most move around too much.  I understand the need to move to another spot if you're not catching fish, but sometimes it takes 15 minutes or so for things to happen.  I like to anchor up on a spot, chum and wait awhile for the fish to get active if I know fish are there.  Many times, once one fish begins to feed, others follow suit.
Another thing about sitting tight and waiting for things to happen:  If you're in a spot with a good tidal flow, fish will constantly be passing through your area.
Be patient my friend.  It is a virtue, after all!
Pictured:  Kory, Andrea and Ky finish up their charter with a big sea-trout rally.
https://afishionado.com/wp-content/uploads/2017/04/59ad7293122b3e12a92b36e13a60bbfd.jpg
405
700
wpfishwade
https://afishionado.com//wp-content/uploads/2018/03/afishionadoheader2.jpg
wpfishwade
2017-02-14 08:02:20
2020-10-06 10:41:34
The Large Sea-Trout Are Active