TAMCO Foundation Fishing Tournament – April 20, 2012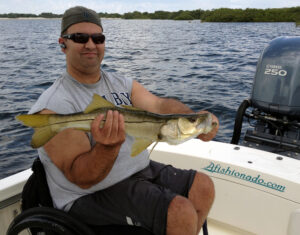 First Place Inshore Slam, Wounded Warrior Division
Austin Burchard caught this trout early last Friday during the TAMCO Foundation 2012 Grand Slam Fishing Tournament and went on to catch a snook and redfish to win the Wounded Warrior Grand Slam division.
I always enjoy fishing with active and retired military personnel, but I especially value the time I get to spend with our country's wounded warriors. These individuals are true heroes and have sacrificed so much so we can have the freedoms afforded us today.
Freedom is not free! Austin suffered a spinal cord injury due to a sniper's bullet while serving in Afghanistan. And though he has lost the use of his legs, he hasn't lost his lust for life and fishing. With a little help from tournament volunteers and Austin's wife Donna, we positioned Austin in his wheelchair on the aft deck of my spacious Sheaffer Boat and headed out for a day of fishing.
My first stop was an area I never fish, but since it was on my way and looked like a good place for trout, I dropped anchor. Many times we pass right by fishy spots to go to the tried and true, but next time you may want to stop. The very first cast Austin made, landed him a trout over 20 inches. With the trout out of the way, we moved on to pursue snook and redfish.
As fishing goes, sometimes we hit a lull. For the next couple of hours we didn't catch much, but I had no worries. I knew that when the tide was high enough, we could go to an oyster bed across the bay and finish our grand slam.
Once we arrived at the oyster bed, I began chumming with live bait and Austin cast to the edge of the oysters and a snook responded. Austin reeled in a 25-inch snook, not huge, but it was another piece of the puzzle and it added to our total inch count. Now all we needed was a redfish.
Knowing redfish frequent this oyster bed as well, I started live bait chumming even more. Austin's next couple of cast landed him more snook and then, bam, redfish on! Keep in mind, I'm anchored from the bow and Austin has to fight the fish around my boats motor and trim tabs, so until I had the fish in the landing net there was no celebration. Once we landed the fish, photographed and released it, we stuck around and enjoyed a couple of hours of catching snook and redfish so everyone else on board could catch a grand slam.
The weigh-in cut off was at 4 p.m., so we headed back to tournament headquarters and with 30 minutes to spare, I turned in the photos and waited for the results. Out of 74 boats participating in the tournament Austin Burchard won the Wounded Warrior Grand Slam division. It was an honor for me to be recognized as Austin's winning captain, however, he deserves all of the recognition for being a true American Hero.