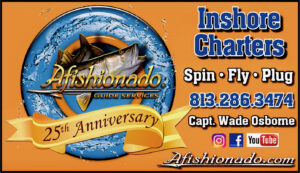 This month marks a quarter of a century that I've been in the guiding business.
Let me tell you…Guiding customers to fish over the past 25 years full-time, hasn't always been easy, but it's been rewarding. Watching and coaching people to catch snook for the first time is still exciting. Teaching kids how to fish is worth every alarm that wakes me up at 3:30AM to prepare for the days charter. Seeing the smiles on people's faces when they're reeling in one redfish after another, justifies the hours that I put in catching bait before my clients even board Afishionado.
Through the years, I've witnessed more than a few phenomenon that has affected the Tampa Bay area waters. There have been several brushes with Hurricanes, three severe outbreaks of red tide, and the worst of all, the massive influx of boats both, recreational and commercial.
Starting in 2020 during the pandemic, people weren't working or traveling so they bought boats and started fishing. Since then, Fridays resemble what Saturdays used to look like on the water, and Sundays now look more like the Fourth of July!
Additionally, over the past four to five years there's also been an abundance of people getting into the fishing guide business. Now I'm not opposed to legitimate professional competition, it makes everyone better. However, that hasn't been the case, for the most part. Many of the newbies lack customer service skills, have little to no dignity or work ethic and provide their customers inferior equipment.
After 25 years, I still, look forward to sharing in the experience of people catching some of Florida's most popular inshore species on spin, fly or plug. I always have, and always will strive to offer the best possible fishing experience for every charter from my boundless energy and strong work ethic, to providing quality rods, reels, and the knowledge to make it all pay off.
I won't be guiding for another 25 years, but I'll be at it for another five, maybe ten! So, what are you waiting for, call me?
I'd be happy to set my alarm clock for you!
https://afishionado.com/wp-content/uploads/2022/01/AFISHIONADO-2.jpg
801
1389
Wade Osborne
https://afishionado.com//wp-content/uploads/2018/03/afishionadoheader2.jpg
Wade Osborne
2022-01-01 04:09:11
2022-02-01 11:48:32
What a Momentous New Year!