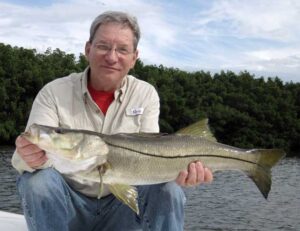 When water temperatures drop into the low 60's, fish go deep or to heat.  Let me explain what I mean.
Cold water slows the metabolism of a fish way down.  They move slower, don't travel long distances or feed as much.  What they like to do, is drop off into deeper water for warmth.  Residential canals lined with docks are great areas to target winter fish.  Deep-water back bays and coves lined with mangrove and oyster bed shorelines are another.  These areas usually have muddy bottoms which warm up during the day and retain heat during the night.  If you should fish these areas early in the morning and it's slow, give it some time.  As the sun rises and the water warms, the fish become a little more active and are likely to eat.
One of the biggest considerations this time of year, (for me anyway), is what to use for bait.  I always prefer to fish with live-bait.  Majority of the time it will be scaled sardines, but when we've had an extended period of extremely cold weather, catching bait can be difficult.  When that's the case, I make a quick stop at the tackle shop to buy some regular sized shrimp.  Buying larger shrimp is a big waste of money, so don't do it.
You won't catch as many snook with shrimp as would with scaled sardines, but you'll catch a few.  However, during the winter, shrimp are just as effective, if not a better bait choice for catching redfish and trout.  Another bonus fish you'll catch with shrimp is sheepshead.  You definitely won't be catching any sheepshead with sardines.
Most Floridians hate cold weather, but I love it!  I've had some of the most productive charters of my career during the winter.  There's also less boat traffic and competition for the best fishing spots.  If you're one of those people who like to sleep in on a cold winter's morning, do so, just head out in the afternoon.  There are days when I don't even start my charters until noon to take advantage of the tide or to let the water warm up a bit.  Despite the up and down temperatures, the fishing is steady.   Most days we're catching the main three species to complete an inshore slam of snook, redfish and trout.
In all reality, there's not much Mother Nature can throw our way this time of year that would disrupt the great fishery we have in Tampa Bay.
Pictured: Gerry Stosek from Bethesda, Maryland with a nice winter snook.
https://afishionado.com/wp-content/uploads/2017/04/4ffd1abb8fbb882d52540e4dfbb5e4a4.jpg
444
604
wpfishwade
https://afishionado.com//wp-content/uploads/2018/03/afishionadoheader2.jpg
wpfishwade
2017-01-04 08:04:11
2020-10-06 10:41:34
January is an Outstanding Time to Fish!