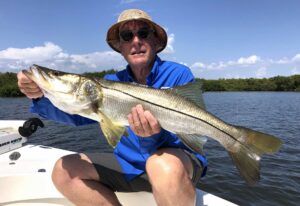 Thankfully, the beaches have been reopened, and the economy is slowly starting to rebound.  First and foremost, today is a time to remember all the service men and women who fought and gave their lives to keep this great country free.
As far as the fishing goes, it is outstanding.
The snook are spawning right now and will be doing so through July, so it's an excellent time to catch some monsters.  Redfish schools are cruising just about every grass flat and many of these fish are over 33-inches and weigh close to 20 pounds.  Tarpon are abundant throughout Tampa bay and June is a prime month to hook up with one of these giants.  Spanish mackerel are ripping the shreds out of bait and are excellent table fare if cooked within the first few days of harvest.  Another good fish to fillet up for dinner is a mangrove snapper.  They're spawning now also and are very aggressive and ready to bite anything on your hook.
If you haven't been out on the water fishing in a while, please give me a call and I'll show you what you've been missing.
Usually, I get too busy to write fishing reports as often as I'd like, so, if you're interested in seeing my most recent post, please like my, Facebook Page to receive updates. For charter reservations call/text Wade at 813-286-3474.

https://afishionado.com/wp-content/uploads/2020/05/Hank-Web.jpg
1321
1920
GS2015HD
https://afishionado.com//wp-content/uploads/2018/03/afishionadoheader2.jpg
GS2015HD
2020-05-25 06:47:39
2020-10-06 10:36:06
Memorial Day, the unofficial beginning of summer.