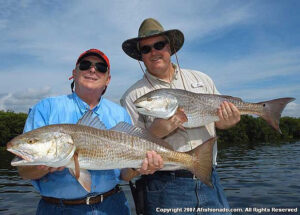 Ron Holt sent this email out to his clients as a referral.
Roger and I went out again with Wade Osborne (www.afishionado.com) and had a spectacular fishing trip. We caught 24 redfish (and a few other fish too) most of which were more than 27 inches long (too big to keep)!
It was awesome and Wade worked hard to keep track of the fish and keep us in the water catching more. We did manage to catch two that were just within the slot so we had fish to eat that night. It was the greatest fishing trip I have ever been on. Wade even tried to convince me to give up Bass fishing, but to no avail.
If anyone wants to do a guided trip, go to Wade's web site and take a look. There is no guarantee that you will catch 24 reds, but you won't find a guide that will work harder for you. Roger Ubehagen (L) with a 32.5" and Ron Holt (R) with a 31.5" redfish.
Another satisfied customer!
Ron Holt, Tampa, FL
October 30, 2007

https://afishionado.com/wp-content/uploads/2017/04/fe27a73a35ec31985111d98c79114ef7-2.jpg
442
618
wpfishwade
https://afishionado.com//wp-content/uploads/2018/03/afishionadoheader2.jpg
wpfishwade
2007-10-30 16:00:49
2020-10-06 10:41:56
It was the greatest fishing trip!